Why and How We Serve
Journey Community Church exists to glorify God. That's our "why." We do this through worship and by reflecting God's character in the way we love one another.  That's our "how."
Everything we do flows first from our "why" (purpose) and then through our "how" into "what" we do.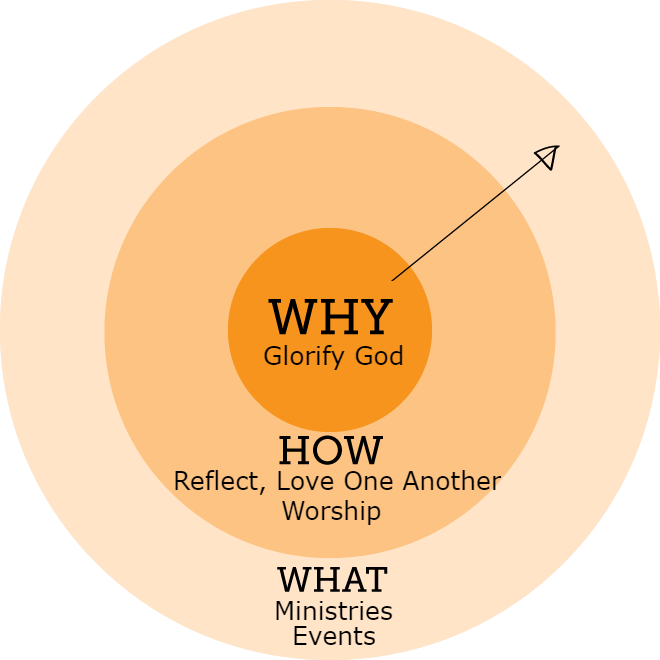 7 Practical Ways Journey Serving Teams Reflect God's Character
1) Non-elder leader – Our goal is for every serving team or event to be led by a non-elder leader who is called by God to lead the team. They serve as the point person and are responsible not only for making the ministry/event happen but also for keeping the team's focus on doing the ministry/event in a way that glorifies God and exemplifies the kingdom. (Acts 6:1-4) (Value: Discipleship)
2) Elder co-leader – Every serving team or event has an elder as a co-leader to guide the leader and serve the team. The elder's responsibility is primarily to help the leader lead in a Christ-like way and help them work through any leadership challenges. (Value: Discipleship)
3) Team – While there are some occasions when we serve solo, we believe serving is best done in community with a team. Serving team leaders recruit at least one other person (and usually more) to serve with them in the ministry/event. We believe HOW our teams function is more important than WHAT they do, so we place a high priority on building teams that love and care for one another selflessly.
We work hard to make our events and activities go well, but we do not expect everything to be perfect. We also recognize that this isn't the most efficient way to do things, and we're OK with that. We would rather spend more time with people we love in a God-honoring community. (Value: One Another)
4) Prayer – Prayer is a significant part of every serving team meeting and event. Serving teams pray not just for the "success" of the ministry/event, but that people would see Christ in way the team functions and loves one another. If a ministry/event is done in the community with another church or with unbelievers, the team should still pray and invite other people join them in prayer in a way that allows others to freely choose whether to participate in the prayer or not. (Value: Empowered (Abiding with God))
5) Plan – Every serving team develops a written plan to clarify what needs to be done, when, and by who. By using Google Docs, plans can be reused and improved. (Value: Victory through sacrificial serving)
6) Send – Anytime a ministry team serves off campus, the entire Journey congregation sends them and prays for them, not just for the "success" of the ministry/event but that God would be glorified in the way the team loves one another. (Values: Desire, Empowered, One Another)
7) Stories – We expect when we serve or do an event that God will show up and work in the hearts of both Journey people and those who are not a part of Journey. We want to share these stories to give God glory. Therefore, we strongly encourage serving teams to take pictures and video. We invite ministry teams to tell their stories during Sunday gatherings, and we are developing new strategies to share these pictures, videos and stories online. (Value: Desire, Evangelism)
It's our desire to see all our serving teams functioning in these ways that reflect God's character and reveal the kingdom of God. We are not there yet (and may never be), but we share this here so we have a clear vision of where we are going and how we want to serve one another.
View the list of serving teams learn more about how you can get involved.
If you are not a part of Journey but would like to be a part of a Christian community that functions this way, we invite you to join us for our Sunday gathering or contact us.