Plan Your Visit
Will you join us this Sunday at 10 AM?
Let's be honest, visiting a church for the first time can feel awkward. Our "Plan Your Visit" approach is designed to eliminate that awkwardness.
First, we show you and tell you what Sunday gatherings are like at Journey, so you know what to expect.
Second, you fill out the "Plan Your Visit" form to let us know you're coming for a visit, so we can provide a host for you who will:
Meet you outside the front door
Introduce you some great people, including Pastor Jay
Show you around our meeting space (so you know where to find the coffee and the rest rooms)
Sit with you during the service and answer any questions you have
---
What you can expect
Youth Ranch. Our church meets at the Safety Harbor campus of the Florida Sheriff's Youth Ranch (3180 Enterprise Rd E, Safety Harbor, FL 34695). The Youth Ranch is NOT for kids who have gotten in trouble. It's a foster care facility that's specifically focused on keeping siblings together. The kids range in age from 3 to 18, many of them join us for worship with their house parents.
Parking. After you turn off of Enterprise Ave on the Youth Ranch campus, follow the signs past the pond to the parking lot in front of the Activity Center building.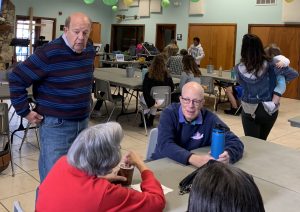 10am Start/Fellowship Time. Relationships are super-important to us. We encourage you to arrive at 10am to grab a cup of coffee, meet people, talk, and catch up with friends. We usually start singing worship songs together around 10:15.
Tables Instead of Rows. One of the first things you'll notice is we gather around tables of 6-10 people instead of rows. This helps to foster relationships and discussion.
---
What you'll experience in a worship service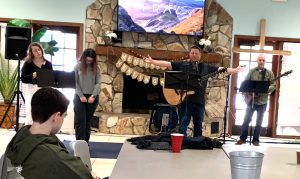 We do not follow a liturgy or exact order of service every week. Some of the things you're likely to experience during a typical Sunday gathering include:
Singing. A volunteer worship team of 3-5 people leads as we sing a mix of modern and classic worship songs with an occasional hymn mixed in.
Share time. We believe Holy Spirit speaks through all followers of Jesus, so we often have an "open mic" time where anyone can how they've seen God at work through prayer or the scriptures.
Prayer. Prayer is usually led by Pastor Jay, but occasionally he asks for volunteers to pray for specific people or issues. We also have metal buckets on each table. People are encouraged to write prayer requests on a note card and drop them into the bucket during the gathering. Prayer requests are emailed to the congregation each week.
Message. Pastor Jay usually teaches a 30-45 minute bible-based lesson, sometimes he teaches through a book of the bible, sometimes we do topical series.
Communion. Communion is open to anyone who has received Jesus as their Lord and Savior, including visitors. It is also completely optional. People are invited – if and when they are ready – to walk over to the communion table, take the individually wrapped elements, bring them back to their seat, and eat the bread and drink the juice as they reflect on Jesus sacrificial death and victorious resurrection.
Service Length. A typical Sunday gathering usually goes until around 11:30 am. Often, some of us will go out to lunch together afterwards to continue the fellowship.
And don't worry, we NEVER ask visitors to stand up and introduce themselves during our gatherings.
---
We Love Kids!
Kids. We believe there is value in having kids worship with their parents AND experience an age-appropriate lesson. Therefore, kids worship with adults at the beginning of our gatherings, and when it comes time for the message, elementary age kids have the option to go to another room for a lesson and craft, and then rejoin their parents for closing worship.
Cry Room. We also have a "cry room" for moms and babies. We live stream the service to the cry room, so you can still see and hear the service.
---
Plan Your Visit Now!
We can't wait to meet you and walk with you on your journey of faith!